Acon Digital Media Releases LoopWorx
Acon Digital Media has released LoopWorx, a new Windows software application for music production. Acon claims LoopWorx makes it possible for users new to computer and digital music production to create professional sounding songs within minutes. Included loops, clips created by the integrated drum computer or recorded material can easily be arranged and mixed on a time line with a few mouse clicks.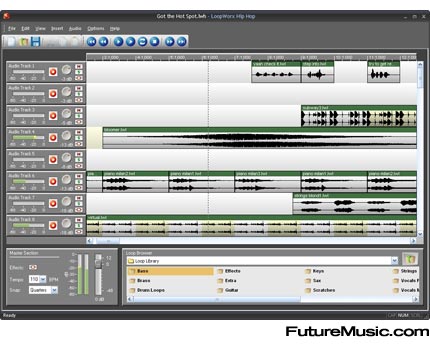 LoopWorx is available in the three genres Rock, Dance and Hip Hop. Each genre comes with about 1,000 professionally produced loops, including beats, sounds and instruments typical for the genre. The loops are easily arranged, processed and mixed on the eight audio tracks available in LoopWorx. The master track as well as the separate audio tracks can be processed with one or more of the included audio effects, ranging from high quality reverb to guitar amplifier distortion.
LoopWorx imports and exports all commonly used audio file formats. The software automatically changes the tempo of all the clips in a project when changing the project tempo using the integrated high quality time stretching algorithms.
Features:
• Music production in one of the genres Hip Hop, Dance or Rock
• Arrange and mix on up to eight audio tracks
• Contains about 1,000 ready to use loops
• Track and master effects include echo, reverb, equalizer, limiter and distortion
• Automatic time stretching with professional quality
• Imports clips in WAV, MP3, OGG, WMA and AIFF files
• Exports mixes to WAV, MP3, OGG and WMA files
• Record your own clips
• Integrated drum computer
• Unlimited undo and redo
LoopWorx is available for $30 directly from Acon Digital Media's website. A free 30-day trial available. More information on Acon Digital Media LoopWorx .