Burgin McDaniel Design Release Komit Compressor Limiter
Burgin McDaniel Design (BMD) have announced the release of Komit, a compressor / limiter. Built around a balanced, floating input and output via Triad Magnetics iron, the Komit is designed for ease of use thank to its automatic makeup gain via a Compression control.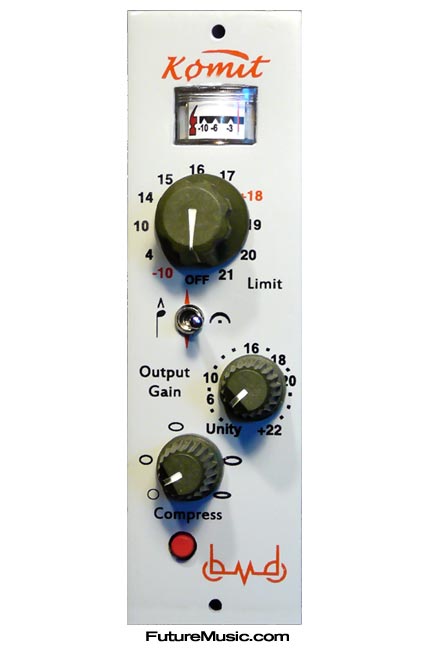 Here's how it works: when set to minimum, the compression ratio is 1:1. As ratio increases, the source level remains constant. A separate Output gain adjustment controls a discrete, pre–limiter analog gain stage that drives the limiter for color and effect or, can be left at unity if no further gain staging or timbral modification is needed.
Veteran designer, Kevin Burgin, has helped create some of the world's top shelf audio gear. With the Komit, he focused on ease of use and a wide range of tonal character. "The Komit is a high performance pro audio compressor in a small, affordable package. We have taken most of the guesswork out of compressing on the fly. It's truly a one-knob unit. If you need it, a three position switch selects the attack and, all of this is independent of the limiter."
The other half of the duo, Travis MacDaniel, offers another view on their new creation. "You can get a hundred different, kick-ass drum sounds with the Komit. The limiter can put a nice vintage edge on a vocal or give you the smoothest clarinet you ever heard. We hope it becomes your go-to compressor when tracking."
The Komit is designed using the API standard form factor and pin out, and features high temperature–rated components for reliability and long life. The audio paths are discrete, bi-polar operational amplifiers wrapped around an integrated, high performance gain cell. Compression and Output potentiometers are sealed, high quality conductive plastic, with metal bushings and shafts. BMD believe that the Komit is a welcome addition to any outboard rack or lunch box.
Features:
"One Knob Operation" eliminates guess work
Feed-forward design for automatic detection
Auto–gain makeup when compressing
Independent Limiter tames peaks
3 auto presets for fast setup
Discrete analog signal path for smooth sound
Balanced, floating transformer I/O
True hard wire bypass
Analog Gain Reduction meter
API form factor, fits in your API 500 Series Lunchbox or the optional Producer's Pack (below)
The BMD Komit Compressor Limiter costs $995, but is available now for an introductory price of $800. More information on the Burgin McDaniel Design Komit Compressor / Limiter.