Onda Announces VX767 Personal Media Player
Onda has announced a new personal media player (PMP), the VX767. This small attractive model features a large 4.3 inch, 16:9 true (480 × 272 resolution) widescreen display, a 400 MHZ chip, RM / RMVB format support with resolutions up to 720 × 576, as well as love for the FLV / AVI / MOV / ASF / MP4 / WMV / 3GP / MPG video formats, and support for MP3, WMA, APE, and FLAC.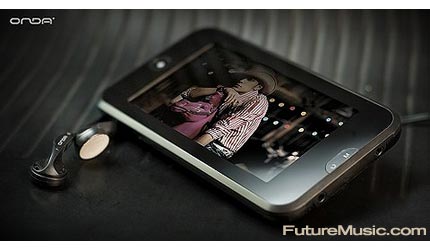 In addition the VX767 will support LRC lyrics, and have the ability to view pictures, and read some eBook formats. An onboard mic allows for voice recording, and the unit has a built-in FM radio. The VX7 will also have the ability to play games, although specifics were not mentioned. Battery life is a claimed 40 hours for audio and 10 hours for video.
Features:
● 4.3-inch, 480 × 272 dot-matrix TFT widescreen display true color
● TV output
● MP3 WMA WAV APE FLAC support
● Synchronous lyrics display
● FLV / AVI / MOV / ASF / MP4 / WMV / 3GP / MPG video support
● FLASH support
● JPG, BMP, GIF, PNG formats, rotate and slide show
● FM radio with 40 radio presets
● Built-in microphone
● energy-saving settings, font color, display brightness, and freedom of the interface background settings
● 8 EQ settings
● Electronic Book Reader, independent bookmarks, automatic browsing
● USB2.0
● 32GB Micro SD support
No pricing or availability has been announced.