Pinel & Pinel Reveal iCase
Just when you think iPod dock/sound systems couldn't get any more ridiculous…
Want to impress your jet-setting friends? Does your yacht need an iPod dock / sound system? Do you enjoy flushing your money down the toilet?
If you answered "Hell Yeah!" to any of the questions above, then we've got the perfect item for you!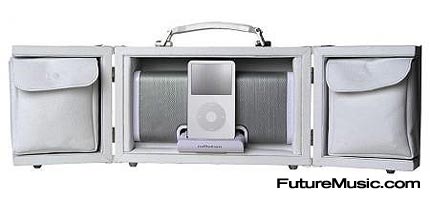 Innovative trunk makers, Pinel & Pinel, have just announced a new iPod dock / sound system dubbed the iCase, which feature a wood covered with white leather case, built-in Altec Lansing speakers, and a remote control.
No pricing or availability has been announced. More information on the Pinel & Pinel iCase.