Edirol Announces R-09HR – WAV/MP3 Portable Digital Recorder
Edirol has announced the R-09HR WAV/MP3 digital recorder. The digital recorder market is now officially so over-saturated with such a multitude of choices that the announcement of yet another contender is a major yawn. Edirol's entry is a high-definition WAV recorder with 24/96 fidelity, and it officially becomes their flagship. However, the question that consistently comes up when gazing at Edirol's products is why are they so unattractive. You're bringing a new product into a very competitive niche market, and it looks like this?? In this day and age of superior industrial design, someone at Roland should take a deep, hard look into whomever is developing Edirol's products and beat them with stick.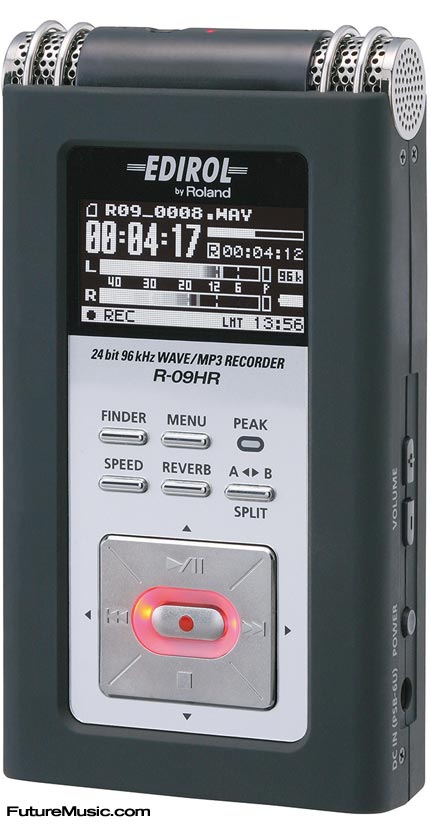 The R-09HR supports up to 24-bit/96kHz linear PCM recording, and features Edirol's I.A.R.C. (Isolated Adaptive Recording Circuit), a newly developed analog circuit optimized for recording with the R-09HR's onboard A/D converter. The R-09HR features a built-in stereo electret condenser microphone with a dedicated analog input control, as well as a mono/stereo selector, low-cut filter, limiter/AGC (Auto Gain Control), and gain boost. It also contains a handy preview speaker on rear panel. a wireless remote and USB 2.0 connectivity.
Features:
• 24-bit/96kHz linear PCM recording
• WAV: 44.1/48/88.2/96 kHz, 16/24 bits; MP3: 44.1/48 kHz, 64/96/128/160/192/224/320 kbps
• Newly developed Isolated Adaptive Recording Circuit (I.A.R.C.)
• Stereo condenser microphone built in
• Records to SD or SDHC memory card
• Large, wide-view OLED (Organic Light-Emitting Diode) display
• Preview speaker built in
• Wireless remote controller included
• High-speed file transfer via USB 2.0 connection to computer
• Cakewalk pyro Audio Creator LE wave-editing software included
No pricing or availability has been announced. More information on the Edirol R-09HR.