Edirol Introduces R-44 Field Recorder
Edirol has announced a new field-recorder, the R-44. Still butt-ugly as its sibling the R-4, the R-44 is a four-channel recorder that uses SD or large capacity SDHC card storage media for recordings. It offers up to four channels of uncompressed audio available at selectable bit depths (16- or 24-bit) with sampling frequencies between 44.1kHz and 192kHz (stereo mode only). Broadcast wave is also supported and two R-44s can be synced together to offer up to 8-channel recording for surround sound applications.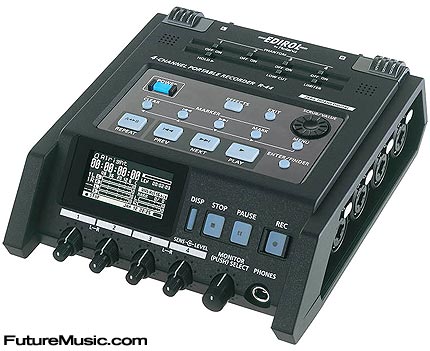 The R-44 weighs three pounds and features both XLR and 1/4 inch TRS jack inputs. The XLR inputs are derived from the EDIROL R-4PRO and come equipped with individual phantom power as well as a limiter. Eleven steps of input sensitivity enable the connection of multiple devices with a variety of input levels from microphones to musical instruments. The high-speed USB 2.0 port allows for quick and easy copy and archive to a computer. Conveniently the R-44 can also operate as a USB host. Power is supplied by external adapter or onboard AA batteries. The R-44 also offers effects, including limiter, low-cut filter, 3-band EQ, 6-band GEQ, enhancer and de-esser.
Features:
• Compact, lightweight and rugged design
• Record up to four channels of audio at selectable bit rates (16- & 24-bit) and sampling frequencies (44.1, 48, 96kHz — 192kHz for stereo recording only)
• Variety of input sensitivity levels
• Uses SD and SDHC cards
• Onboard effects
• XLR and 1/4 inch TRS jack inputs
The Edirol R-44 will be available sometime in March. More information on the Edirol R-44.