JBL Announces VERTEC VT4889ADP & VT4880ADP Powered Speakers
JBL Professional has announced the VERTEC VT4889ADP Full Range High Directivity Line Array Element and the companion VT4880ADP Ultra Long Excursion Arrayable Subwoofer. Co-developed with Harman Pro Group sister companies Crown International and dbx Professional, the JBL DrivePack electronics modules with integral digital signal processing integrate with VERTEC loudspeakers. These latest powered full-size models in the JBL VERTEC DP Series deliver quality audio with digital electronics matched to the enclosures.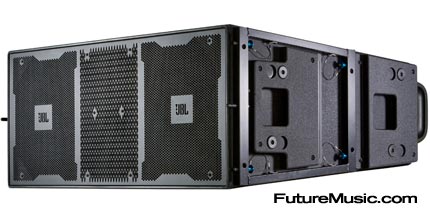 The available JBL DrivePack DP-3 module features Crown's BCA (Balanced Current Amplification) technology, incorporating Class I circuitry with temperature-compensated modulation. Feedback circuits enable the JBL DrivePack to deliver lower noise and distortion specifications, and the units include an auto-sensing Universal Power Supply and a fan-free, passive, cooling design. The three-channel DP-3 offers a rated output power of 6,000 watts peak, 3,000 watts continuous (at load) for the VT4889ADP, and 6,900W peak, 3,500W continuous for the VT4880ADP subwoofer.
The standard input module from dbx features analog audio inputs, Type IV analog-to-digital conversion circuitry, and onboard digital signal processing technology. Precision bandpass limiting, pre-equalization filters and automatic self-test functions ensure optimized performance. The modular input bay design allows for insertion of optional networked modules.
The VT4889ADP 3-way full-size line array element is a powerful, lightweight option for applications requiring powered loudspeaker systems. It is fitted with two 380 mm (15″) low frequency transducers, four 203 mm (8″) midrange components and three 76 mm (1.5″) neodymium compression drivers with beryllium diaphragms. It weighs only 93.1 kg (205 lb), enabling the assembly of large powered arrays of multiple units, yet each unit is capable of delivering 143 dB SPL maximum output (1 m).
The VT4889ADP and its companion subwoofer, the VT4880ADP, are pre-configured from the JBL factory with JBL's new V4 DSP preset data, developed with the aid of JBL's exclusive LDM (Loudspeaker Data Manager) software, and offering optimized acoustical performance.
The VT4880ADP 2 x 18-inch arrayable subwoofer is a high output, lightweight companion subwoofer to complement VT4889ADP full-range loudspeaker systems. It is fitted with two new 457 mm (18″) model 2269G ultra long-excursion low frequency transducers, each of which is rated at 2000W continuous, 8000W peak. The subwoofer is capable of delivering 137 dB SPL (1 m). This powered subwoofer weighs only 99.9 kg (220 lb), enabling the construction of extremely powerful VLF (Very Low Frequency) arrays of multiple units. The unit is designed to be suspended in stand-alone arrays, coupled with VT4889ADP's in the same array, or ground-stacked as required.
More information on the JBL VERTEC VT4889ADP & VT4880ADP.