Songkick Attempts To Rank Band Popularity
Songkick, a concert listings website, has introduced a new online application that attempts to rank a band's popularity online. The site measures band popularity by gauging activity levels on MySpace, blogs and Amazon sales rankings.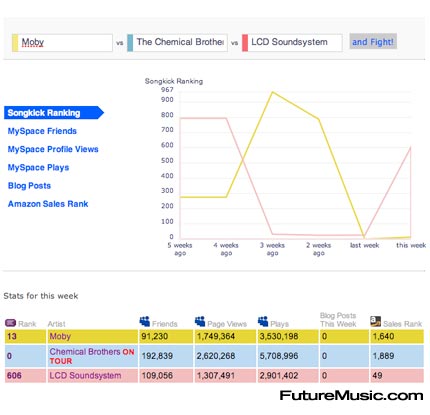 The results are heavily swayed towards currently touring rock bands, but it's entertaining to pit your favorite bands against each other. Unfortunately, the technology is somewhat clunky. In the battle of the bands chart above, The Chemical Bros. received a Zero in overall rank, which tells you something is amiss — but the concept is provocative.
This week's most popular bands include Vampire Weekend, Hot Chip, The Black Keys, British Sea Power, and Band of Horses.
More information on Songkick's Battle Of The Bands.