Mixvibes Introduces Cross – Multi-Platform DJ Mixing Software
MixVibes has announced CROSS, their new cross platform and cross technology DJ mixing software for Mac OSX, Linux and XP / Vista.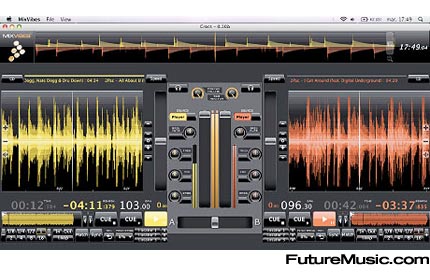 According to MixVibes, the first aim of CROSS is not to add complex features but to reintegrate the DJ's music as the centerpiece of his performance. CROSS introduces an intuitive advanced media management system: full iTunes integration, multiple tag edit, artwork browsing, smart media preview, missing media manager, multiple playlist visualization. The endless possibilities to browse, locate, filter, edit and classify your media bring DJs evermore closer to their performance and their audience,
Features:
• OS compatible: Mac OSX, VISTA, XP and LINUX ready
• MIDI and ASIO compatible
• Media management:
• Multiple tag edits
• Artwork browsing
• Multiple playlist management
• Live file import (from external HD)
• Full iTunes integration
• Manual and Auto loops
• Pitch Range ( +/-8, +/-16, +/-40, +/-100)
• Symmetric and intuitive display
• Colored waveforms
• Smart resize
• Waveform Extreme Zoom
• 2 Scroll modes: CD (CDJ stutter mode) or vinyl
• Z plane high end time stretch
• Normal, Master Tempo and Hybrid pitch modes
• Smart preview
• Line By-pass
An intuitive interface combined to a high-end audio engine are the core of CROSS' build. To make the DJs job painless the interface displays all the standard professional DJ tools in the places you would expect to find them: manual and auto loops, BPM analyzer, BPM matcher and locators are easily visible and editable. Moreover a set of laptop stickers makes it easy and fast to configure up to 88 keyboard shortcuts and a mix in standalone mode.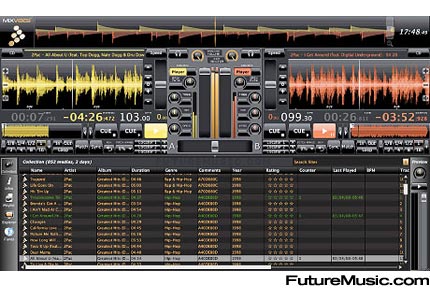 Mixvibes CROSS brings an answer to all the DJs who are concerned with the loss of sound quality induced by the widespread of digital sound. On the interface side, a "summary" tab displays a detailed overview of the media encoding quality. Last but not least, the Z-plane master tempo technology allows +/- 20 BPM variations with virtually no sound distortion, while the exclusive hybrid mode insures a smart transition between Master tempo and Speed mode to avoid digital distortion at extreme pitch values. DJing various styles and BPMs without compromising on sound quality becomes fun and easy!
MixVibes showcased the LE version at MusikMesse with a Vestax VCI 100 controller, however, they plan to implement more features in the final release and will have a DVS version ready for the DJ Expo in August 08.
No official pricing or availability has been announced. More information on Mixvibes CROSS DJ Mixing software.