Clavia Debuts Nord Lead 2X Anniversary Edition
Clavia did some major pom-pom waving prior to the MusikMesse show about a new product, that turned out to just be a Nord Lead 2X with some new lipstick. The new Anniversary Edition features a snappy new graphic, and an inverted black and white keyboard. We really wish there was more to tell you, but you'd probably fall asleep at your computer. However, if you enjoy soporific copy read on…at your own risk.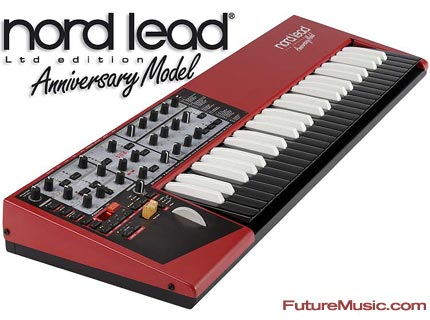 Clavia was founded 25 years ago by Hans Nordelius. The very first products from us involved digital audio and samples, technologies that were well and truly in its infancy back in 1983. 13 years ago Clavia launched the original Nord Lead, which made a huge impact on the synthesizer community and the MI business. The Nord Lead was Clavia's first keyboard instrument and was to lead the way, not only for the MI business but also for the direction of Clavia as a company. In order to commemorate this first 25th anniversary for Clavia, we have created the Nord Lead Anniversary Model Limited Edition. This collectible synthesizer will be made in a limited production run that will consist of only 299 units. The Nord Lead Anniversary Model Ltd. Edition shares the specifications with the Nord Lead 2x and will be easily recognizable with a custom printed front panel and the inverted color scheme on the keyboard. The individually numbered units will be delivered with a certificate of authenticity, signed by Mr Nordelius.
More information on the Clavia Nord Lead Anniversary Edition.