ADAM Audio Releases A5 Monitors & Sub7 Subwoofer
ADAM Audio has premiered the new A5 Powered Monitor and Sub7 subwoofer. The A5 is a smaller version of the A7, and can be used either in stereo or to fill out a 5.1 surround system. Powered by 2X25W on-board amplifiers, the A5 combines ADAM's ART (Accelerated Ribbon Technology) folded ribbon tweeter with a 5″ woofer constructed of a carbon fiber and Rohacell sandwich.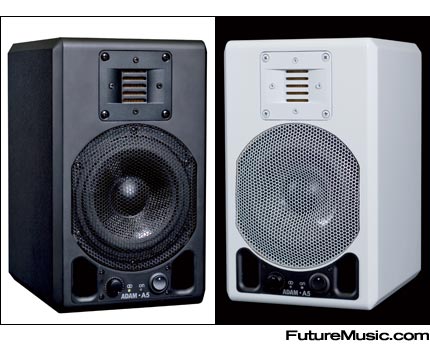 The front of the A5 sports dual ports for low frequency response down to 55Hz, metal grills for added durability, as well as power and gain controls. The rear panel includes balanced XLR jacks, unbalanced RCA jacks, and a new development by ADAM called Stereolink. This new technology connects speakers with input and output jacks allowing the user to control the overall volume of the system from any one speaker's gain control, making the A5 a great match for desktop recording systems.
The A5 comes in a choice of traditional ADAM matte black or new glossy "piano" finishes in black or white. Optional wedge-like stands enhance desktop recording by allowing the A5 to be positioned at an upward angle. In addition to audio recording applications, the A5 is well suited to mobile and broadcast applications, desktop recording, and even multimedia uses such as gaming and home audio.
ADAM Audio's Sub7 is a new compact subwoofer designed to compliment the A5. Despite its small footprint, it is capable of extending the frequency reproduction of the A5 down to 30Hz. Multiple inputs (both XLR and RCA) and controls that allow the system to be fine-tuned to any listening environment make the Sub7 the ideal partner for the A5. A wireless remote control for adjusting the volume and crossover frequency from the listening position is also provided.
The ADAM A5 costs $699 per pair for the matte black version and $769 per pair for the glossy finishes in black or Liberace white. The Sub7 costs $479 in matte black, and $529 glossy black/white. More information on the ADAM Audio A5 and Sub7.