M-Audio Announces ProKeys Sono 61 & ProKeys Sono 88 Digital Pianos
M-Audio took the wraps off their new ProKeys Sono 61 and ProKeys Sono 88 portable digital pianos. The ProKeys Sono 61- and 88-note models follow the release of the 49-note KeyStudio 49i creating a complete line of all-in-one solutions.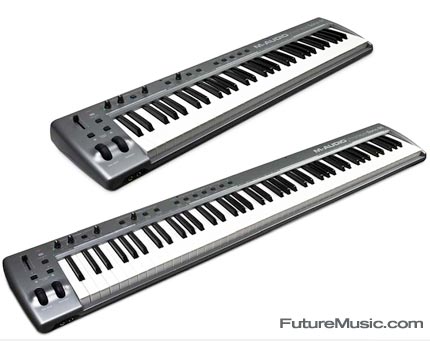 The ProKeys Sono 61 and 88 portable digital pianos feature semi-weighted keybeds containing advanced scanning technology. This new innovation provides better resolution, increasing the player's control over dynamics for an expressive performance. The ProKeys Sono portable digital pianos provide a diverse array of sounds that make it easy to work out ideas and perform—with or without a computer. Both models feature sounds sampled from a Steinway grand piano by the expert software instrument designers in the Digidesign Advanced Instrument Research (A.I.R.) group.
ProKeys Sono 61 provides four other instant-access sounds—bright piano, electric piano, organ and clav—while ProKeys Sono 88 adds strings and choir for a total of seven on-board instruments. Players can also apply reverb and chorus for enhanced realism. To complete the package, the on-board GM sound set provides 128 sounds plus drums and percussion. Users can play any of these sounds when using the keyboard alone, or connect to a computer for even more options.
The M-Audio ProKeys Sono 61 and 88 portable digital pianos are currently expected to ship in the second quarter of 2008 and will set you back $449.95 and US$549.95, respectively. More information on the M-Audio ProKeys Sono 61 and ProKeys Sono 88 keyboards.