EKS Showcases OTUS DJ Controller At MusikMesse – Reveals More Specs, Release Date and OTUS RAW
EKS officially premiered their new OTUS DJ controller at MusikMesse today raising eyebrows and demonstrating what happens when a company thinks "out of the box." Otus is a USB powered, 2-in-1 DJ controller with a built-in multichannel soundcard. This makes it possible for a DJ to play two audio channels simultaneously with just one controller.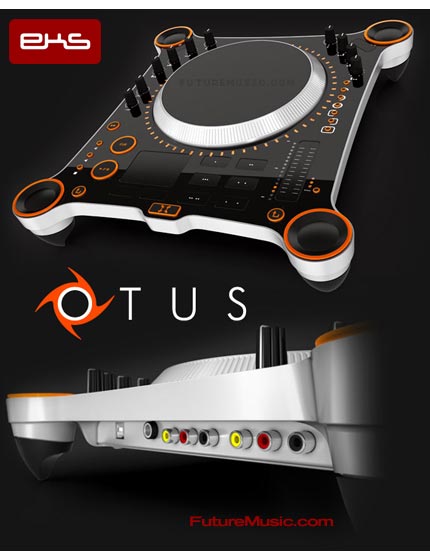 Housed in a design-forward, aluminum chassis, Otus is equipped with a configurable, illuminated, and high resolution 7.5" jog wheel, and contains new features for effects control, including a touchpad and two motion sensors. Otus also brings you a new switch key, which enables the DJ to use two layers of controls at the same time. With the advanced MIDI support and MIDI mappers it will be easy to configure Otus with just about any software application imaginable, be it audio, video or something else altogether, leaving the boundaries to be defined only by the artist's imagination.
Main Features:
» The 7.5″ jog wheel offers both physical and virtual sensitivity adjustments.
» Otus has been designed to substantially reduced vibrations due to its unique sharp cloves feet.
» All of the controls are illuminated by LED indicators for maximum usability in a club environment.
» Advanced MIDI mapper & ASIO software makes creating different setups easy
» The smoked glass surface along with the feet of the controller can be customized
» The Future Proof Ideology of the control layout allows the use of future software features. Assignable buttons, knobs, push-and-rotate selectors and capacitive touchpad enable advanced creative freedom, while the relative touch sensitive slider allows very accurate pitch adjustments.
» All of the controls can be virtually doubled via a color indicated layer selection switch or shift button. The second layer, indicated by LED color changes, offers the option to control two virtual decks with one Otus or even other software like MIDI controllable VJ software.
» A professional level audio/headphone output
Technical Specs:
» Compatibility
— ASIO
— Core Audio
— Compatible with any software that supports MIDI learn
— USB 2.0 / USB 1.1
— Win/OSx/Linux
» Controls
— High resolution 7.5″ wheel with touch sense (position/speed LED indicated)
— 2 Near Field Motion sensors
— 4 jog dial type controls with switch
— 17 low travel buttons
— 6 touch buttons
— 10 assignable control knobs
— Built-in touchpad/assignable X/Y control surface for mouse or effect control
— 80mm touch sensitive pitch slider, with position LEDs
— All controls LED backlit
» Audio interface
— Integrated 24-bit, 4 channel audio interface
— 16bit / 24bit, 44.1kHz / 48kHz
— Frequency response 4Hz-24kHz
— SNR >115dB JEITA (a-weighted)
— THD+N 0,002%
— 2 x Burr-Brown I2S DAC
— 2.5V RMS (7Vpp)
» Connectors
— USB
— 4 x analog out RCA (two stereo outputs)
— 2 x out (spdif)
— 6.3mm headphone output
» Dimensions
— 365mm x 335mm x 70mm
— Weight
— 1.5 kg
» USB powered (450mA)
OTUS RAW

EKS also announced that a scaled down version of the OTUS, dubbed RAW will be added to the Otus product line during the Fall of 2008. Otus RAW has a more traditional approach to controlling software and will act like a bridge between the CD players of today and digital possibilities of tomorrow. Otus RAW will feature 7 1/2 inch jog wheel, high quality physical pitch slider, touchpad for effect/mouse control and 4 velocity pads for effect/sample/cuepoint launch.

The EKS OTUS will be available in June and the RAW is scheduled to bow before the holidays. More information on the new EKS OTUS DJ Controller.