StarPlugs Releases THS Synthesizer MK 1
Starplugs have released the THS Synthesizer MK 1, featuring their new TransHarmonic Synthesis algorithm and the new THS Oscillator. StarPlugs claims "it combines a powerful sound with tons of modulation possibilities to create a real "Sequencing-Monster" as MK 1 of the THS synthesizer series."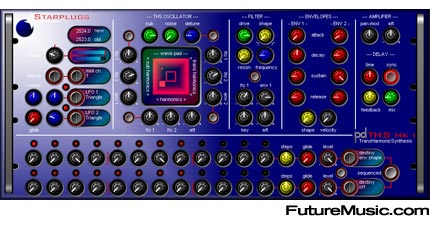 Features:
• TransHarmonic Synthesis + NEW Synthesis algorithm
• Morph up to 8.000.000 waveforms into each other +ultra fast real-time calculation
• New developed 3D wavepad
• 1 voice monophone + classic old school modular architecture
• THS Oscillator+ + enough waveforms
• 1 Quantum Filter + multimode (LP / AP/ HP) + Filter 12-24 dB/oct + self oscillation possible
• 2 Modulation Sequencer + 1 Panstep Sequencer
• 2 Envelope Generators + with shape controller
• 1 Delays + midi syncable + cross mode
• 3 Low frequency Oscillators + midisyncable + 8 waveforms
THS Theory Information:
The carrier wave of the THS-Oscillator is a clean sine wave. Any move in the wavepad will add subharmonic waves; harmonic upper waves and the new discovered transharmonic waveline. This new synthesis can be used to easily rebuild classic waveforms from sine to saw, with octave scaled subharmonics to hard and dry single oscillation sounds. The Subharmonics can be detuned to get the classic phasing sound. The new transharmonic waveline interacts with the subharmonic and harmonic upperwaves. At least 8.000.000 possible wavepad settings stand for 8.000.000 mixing-levels between suharmonic waves, harmonic upperwaves and transharmonic waves.
(Now if they can just do something about that butt-ugly interface… —Ed.)
The StarPlugs THS Synthesizer MK 1 costs $144.99 / €99.99 and is available now. More information on the StarPlugs THS Synthesizer MK 1.