Audioengine Releases W1 Premium Wireless Audio Adapter
Audioengine has announced the Audioengine W1 Premium Wireless Adapter that makes virtually any audio product wireless. Simply plug the Audioengine W1 (AW1) Sender to any audio source – computer, TV, iPod – and the Receiver to any output device – stereo, powered speakers, or subwoofer – and you have wired quality sound without the wires. The AW1 requires no software downloads, has a 100-foot range and provides uncompressed, CD-quality sound without dropouts, static, latency or interference.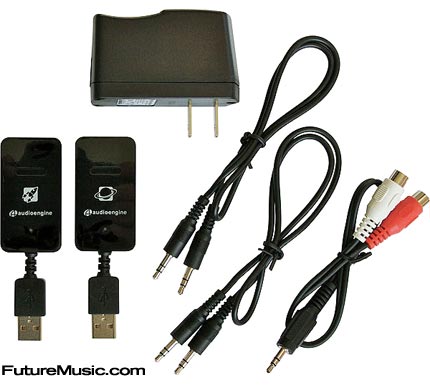 The AW1 delivers performance and ease-of-use because it incorporates the first audio processor designed specifically for music. Most wireless streaming technology is based on data protocols, which are not optimized to deliver a great audio experience. The AW1's AvneraAudio technology, under development for three years by Avnera Corporation, was specifically designed to deliver an unprecedented wireless audio experience. The AW1 provides wired-quality, uncompressed audio without interference: No static or dropouts, even when close to microwave ovens, mobile phones, or baby monitors.
The AW1 is simple to set-up: no drivers, no software installation, no network interaction.
The AW1 is true plug-and-play. Simply connect the AW1 Sender – about the size of a pack of gum – to any computer via USB or any audio source (TV, iPod, stereo receiver) that has RCA connectors or a 3.5mm mini jack output. Then connect the AW1 Receiver to its power supply and the audio input of any powered speaker, stereo receiver, or subwoofer. The Sender and
Receiver automatically connect, providing CD-quality audio without the wires.
Features:
• Sends CD-quality wireless audio to any room in your house
• Plug-n-play, connects in seconds, no software to download or install
• Works with standard devices including Macs, PCs, stereos, and iPods
• Super-compact size, no batteries required
• Plays all music formats from any media player
• AW1 works with:
— Desktop computers and laptops
— TVs, DVD/CD players
— iPods and all other portable music players
— Internet and digital radio, satellite receivers, network music systems
— Videogame consoles
— Subwoofers and surround sound receivers
— Any product with a 1/8″ mini-jack or RCA connector
• The AW1 includes:
— Audio Sender
— Audio Receiver
— USB AC power adapter
— RCA adapter "Y" cable
— 2 Mini-jack (3.5mm) audio cables (20″)
— Setup Guide
• AW1 technical specifications:
— Range: 100 feet (30 meters)
— Wireless protocol: 802.11 (closed network)
— Frequency band: 2.4-2.4835GHz
— Latency: <20mSec -- SNR: 91dB -- Dimensions: 100 x 30 x 10mm (LxWxH) The Audioengine W1 Premium Wireless Adapter costs $149 and available now. More information on Audioengine W1 Premium Wireless Adapter.