Weekend Fun: Skull Moto Helmet
If you don't think riding a big Harley rat bike is scary enough to law-abiding citizens, then the Santiago Chopper Skull Helmet is for you! Just in time for Daytona Bike Week comes this gem of insanity which clearly will not protect much of your cranium in case of an unscheduled dismount, but if you're rocking the skull helmet, you probably don't have much to protect in the first place.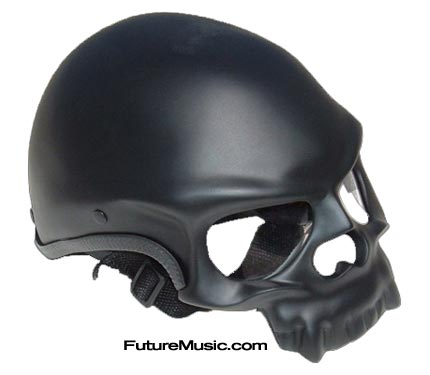 Here's their "snappy" marketing pitch:
This bad ass looking helmet will scare the crap out of any onlooker while your enjoying you mid day cruise. Not only is it light weight, but it's very comfortable inside, and has alot of breathing space. You might even want to buy one for your buddy;)
The Santiago Chopper Skull Helmet will set you back $149 beans. More information on the Santiago Chopper Skull Helmet.