Fatar Announces Numa – Digital Musical Instrument MIDI Controller
Fatar has announced a new type of MIDI controller keyboard, dubbed Numa, which they claim will introduce a new Digital Musical Instrument segment, the Professional Keyboard Interface. Sounds like a fancy name for a MIDI controller to us, but hey, it's MusikMesse time and companies will do anything to rise above the din of new product announcements.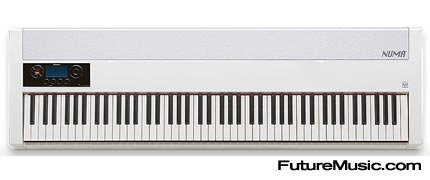 Features:
• Easy Control System. A new user interface panel has been developed using touch sensititve technology (do you mean touch-screen technology?? —Ed.)
• Progressive Grand Hammer Action. Sophisticated touch action. Increased throw distance simulates a full concert grand.
• Intelligent Dynamic System. With the unique YouPlay feature the instrument will guide you into the spacial function to set up your best dynamic touch, the most advanced, customizable velocity response system ever developed.
• Elegant Design Cabinet. Semi-translucent polished ABS cabinet and alumnium cover
Fatar has never been known for sophisticated marketing in the UK, US or the rest of the world, so the details are sketchy, but it sure looks purrrrr-dy.
No pricing or availability has been announced. More information on the Fatar Numa.