Sims Audio Unveils Deux – Portable Firewire Audio Interface
Sims Audio has released Deux, a portable FireWire recording interface. Deux supports up to 24bit/96KHz sample rates and contains 2-in / 4-out balanced audio I/O in an aluminum chassis.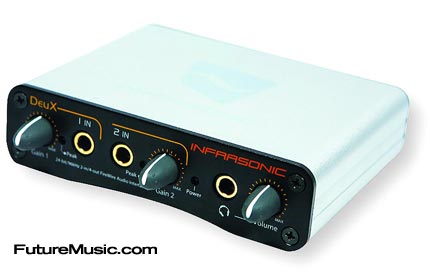 Deux can be powered via the FireWire Bus or with external power supply. Sims claims zero latency and direct hardware monitoring so you can hear exactly what is coming from the recording source. The Deux also features a headphone amplifier and a MIDI interface. Deux comes packaged with demos from Native Instruments including: Absynth 4, Massive, and Traktor 3.
Features:
• 2-in / 4-out FireWire audio interface
• 2 balanced inputs with 1/4 inch TRS phone jack — A/D converter: SNR 102 dBA @ (44.1 kHz)
• 4 balanced outputs with 1/4 inch TRS phone jack — D/A converter: SNR 106 dBA @ (44.1 kHz)
• Supports fully balanced I/O
• Supports up to 24-bit/96 kHz
• Small footprint with a heavy duty aluminum case
• 1 x FireWire (IEEE 1394a) port
• Bus-powered with 6-pin connector
• External power supply is available
• Supports zero latency direct hardware monitoring
• ASIO2.2, WDM, DirectSound and CoreAudio supports
• Windows XP/VISTA (32-bit and 64-bit) or later, Mac OS X (10.3 or later)
• 1 year manufacturer's warranty
• Native Instruments demo software
More information on Sims Deux.