Silverlit Unleashes V-Beat Air Drums
Silverlit has unleashed a companion piece to their super-cheesy V-Beat Guitar, the V-Beat Air Drums. Containing motion sensors, these Air drums allow you to play along to choons in your iPod if you want to lose the remaining two friends that you claim to have…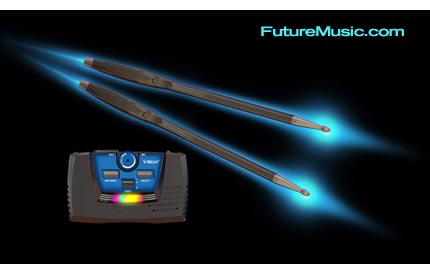 Here's what they had to say:
"With different sound styles and pre-programmed rhythms as well as an instructive guided learning feature, these slick sticks are an awesome way to make some noise! Motion sensors in the sticks detect the beats without any need for you to actually hit anything with them. So, they're just the thing for anyone who wants to practice their drumming without the need to for an expensive and cumbersome set of drums."
We love how these companies always find real objects "cumbersome, annoying and expensive."
Anyway, these pups also come with foot pedals for kick drum action. The video that "promotes" the V-Beat Drums is downright scary, but we know you'll watch it regardless…don't say we didn't warn you…
The Silverlit V-Beat Air Drums cost £29.99 and are available now. More information on the Silverlit V-Beat Air Drums.