Apple Announces iTunes Essentials Compilation Digital Release Cards
Apple is broadening its dissemination of their new Digital Release Cards which were initially sold at Starbucks, but will now involve BestBuy, to include compilations. The cards, which offer digital downloads of albums from individual artists, allow consumers to purchase the cards and then use the embedded codes to download albums via iTunes.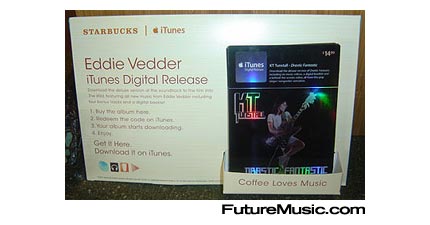 Apple is now fleshing out the Digital Release program to include themed, 15 and 30-song iTunes compilations, which have the same schlocky vibe as the compilations that are sold late at night on TV. The iTunes Essentials cards will initially include: "70s Super Hits," "80s Super Hits," "Classic Rock Hits," "R&B Hits," "Love Song Classics," and you the let's get it started "Party Hits." The fifteen song Essentials will cost $10 bucks and the 30 dealios will set you back $20 — which comes out to 67 cents a song.
The Future: Who says Apple will only sell tracks for 99 cents? Huh?? Who??!