Rain Recording Releases Solstice Spider Edition – Audio Workstation
Rain Recording has released a new digital audio workstation, Solstice Spider Edition. Developed around AMD's new platform, code-named "Spider," Rain's Solstice Spider Edition has been engineered specifically so that all the components will work together as an integrated whole, and not separate parts. The new Spider includes the AMD Phenom 9000 Series quad-core processor, the ATI Radeon HD 3800 Series GPU, and the AMD 7-Series chipset.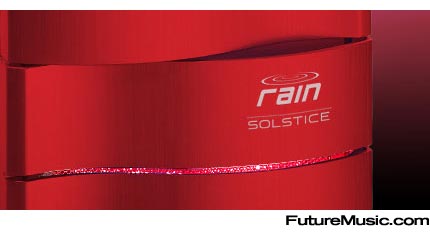 Housed in a striking, crimson-anodized, aluminum chassis, Solstice Spider Edition not only looks beautiful, but also provides a light and sturdy exterior able to withstand the rigors of professional content creation (because you know that you'll be kicking it in the grill when Windows crashes your project that you were just about to save. —Ed.). Solstice Spider Edition represents the perfect balance of performance and price empowering musicians to easily pile on the tracks, virtual instruments and plug-ins. With the addition of ATI Radeon HD graphics, this workstation delivers blazing fast video graphics perfect for gaming and video production.
Rain president Bill Paschick told us, "Rain has seen the convergence of our audio workstations for the purpose of not only music production, but video and multimedia content creation as well. We regularly work with artists and producers who create scores for video games, television and film. On the other side, we see a lot of musicians who are also into gaming. And so the time is right to give gamers and content-producers a machine focused on both of these capabilities.
Features:
• CPU: AMD Phenom 9600 Quad-Core 2.3GHz 4MB Cache 95W TDP
• MainBoard: ASUS M3a32-MVP DLx W/WiFi Motherboard for Phenom
• RAM: 4GB DDR-2 RAM (800 MHz Dual Channel – Matched Pair)
• Video: ATI Radeon 512MB HD 3850
• Operating System Drive: 500GB 7200RPM Ultra 300 SATA II with 32MB buffer
• Media Streaming Drive: 500GB 7200RPM Ultra 300 SATA II with 32MB buffer
• Optical Drives: Dual Layer DVD±RW/CD-RW Combo Optical Drive (LightScribe)
• USB Ports: 10 USB 2.0 (8 Rear/2 Top)
• 1394 IEEE (FireWire): 4 FireWire Ports (2 x 2 independent IEEE 1394 chipsets)
• eSata: 1 eSata II external ports (rear)
• SD Media Front Panel I/O: Compatibility Compact Flash Card I/II, IBM Micro Drive, Smart Media Card, Secure Digital Card, Multi-Media Card, Memory • Stick and MS Pro Cards
• Expansion: Four PCI Express x16 bus, 2 PCI, RAID-Ready
• LAN: 10/100/1000 Realtek RTL8110 Gigabit Ethernet
• Legacy I/O: 2-PS/2 ports
• Audio: 8 channel Realtek ALC889A Audio Codec
• PSU: Silent 600 watt silent power supply
• Quiet Cool: Intel, Zalman and Rain Quiet Cool silencing technology
• Input: Aluminum Keyboard, Microsoft Optical Mouse
• Dimensions: 8 x 17.75 x 21 inches (W x H x D), Weight: 25 lbs.
• Construction and Color: Silver/Crimson Anodized Aluminum
• Rear Panel Connectors:
— 1 PS/2 keyboard port
— 1 PS/2 mouse port
— 1 ESata Port
— 1 Optical SPDIF Out port
— 3 FireWire 400 (IEEE 1394a) port
— 8 USB 2.0/1.1 port
— 1 RJ-45 LAN port
— 6 audio jacks (Line In / Line Out / MIC In/Surround Speaker Out (Rear Speaker Out)/Center/Subwoofer Speaker Out/Side Speaker Out)
Rain Recording's Solstice Spider Edition is available now and costs $2,799.95. More information on Rain Recording Solstice Spider Edition.