Nine Inch Nails Unleashes Ghosts I-IV
Trent Reznor has released 36 instrumental tracks in a collection he's entitled Ghosts I-IV. The collection is available now in a variety of packages, from Free to $300. Almost two hours of new music composed and recorded over an intense ten week period last fall, Ghosts I – IV sprawls Nine Inch Nails across a variety of new terrain.
Trent Reznor explains, "I've been considering and wanting to make this kind of record for years, but by its very nature it wouldn't have made sense until this point. This collection of music is the result of working from a very visual perspective – dressing imagined locations and scenarios with sound and texture; a soundtrack for daydreams. I'm very pleased with the result and the ability to present it directly to you without interference. I hope you enjoy the first four volumes of Ghosts."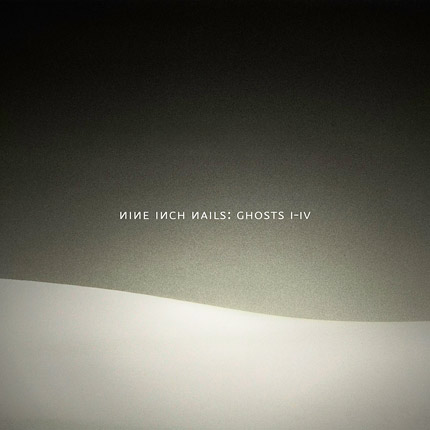 Options:
• Free Cuts: Ghosts I: The first nine tracks from the Ghosts I-IV collection as DRM-free MP3s, plus 40-page PDF.
• $5: Ghosts I-IV: All 36 tracks in a variety of digital formats, plus a 40-page PDF.
• $10: A double-disc set, packaged in a Digipak with a 16-page booklet, and immediate download of album. Ships April 8.
• $75: Deluxe edition of Ghosts I-IV in a hardcover fabric slipcase containing two audio CDs, one data DVD with all tracks in multi-track format, immediate download of album, and a Blu-Ray disc of Ghosts I-IV. Ships May 1.
• $300: Ultra-Deluxe limited edition package is basically the deluxe edition with immediate download, plus a four-LP set on 180-gram vinyl, packaged in a fabric slipcase. Two limited-edition Giclee prints are included; package is numbered and signed by Trent Reznor. Limited to a run of 2500, and one piece per customer. Ships May 1.
• $500: Double Secret Probation Edition includes everything from the Ultra-Deluxe version, plus all of Trent's Chemistry exams from High-School, a set of commemorative whips and chains, and Ghost lipstick and eyeliner in Ultra-Black Black. Doesn't ship because we're (just kidding) about this version…
This music arrived unexpectedly as the result of an experiment. The rules were as follows: 10 weeks, no clear agenda, no overthinking, everything driven by impulse. Whatever happens during that time gets released as… something.
The team: Atticus Ross, Alan Moulder and myself with some help from Alessandro Cortini, Adrian Belew and Brian Viglione. Rob Sheridan collaborated with Artist in Residence (A+R) to create the accompanying visual and physical aesthetic.
We began improvising and let the music decide the direction. Eyes were closed, hands played instruments and it began. Within a matter of days it became clear we were on to something, and a lot of material began appearing. What we thought could be a five song EP became much more. I invited some friends over to join in and we all enjoyed the process of collaborating on this. The end result is a wildly varied body of music that we're able to present to the world in ways the confines of a major record label would never have allowed – from a 100% DRM-free, high-quality download, to the most luxurious physical package we've ever created.
Trent promises more Ghosts releases in the future…
More information on Trent's Ghosts I-IV release.