Weekend Fun: Rip Curl's H-Bomb Heated Wetsuit
Rip Curl has finished testing a new heated wetsuit, dubbed the H-Bomb, in the freezing waters of the North Atlantic. The new technology was developed for certifiably insane die-hard surfers who will now be able to brave the sub-zero arctic chill of the North Pole just so they can brag to their friends they they surfed it.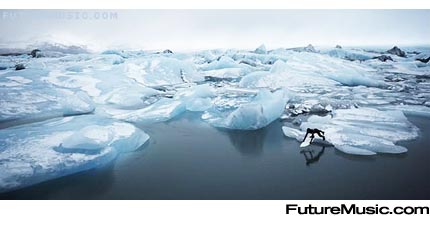 Featuring two fiber-heating elements and a small Polymer lithium-ion batery pack, the H-Bomb warms an area of water that is then distributed throughout the suit to maintain overall body warmth. Two noted surfers, Adam Wickwire from Florida and Elise Garrigue from Hawaii, tested the suit in the Artic Circle for eight days.
"It was so cold that when we went surfing we couldn't even get changed into our wetsuits outside – we'd have to get changed in the car and then sit there until the H-Bomb started to heat up. Once the rubber heated up it was easy to get into the water with our hood, booties and gloves though." But after the initial leap of faith into the ice-cold water, the two came away quite impressed. "The cold wasn't even a factor when we were surfing, because the wetsuits are that good. The only time you felt the water is when you got flushed and that actually helped because the water circulated around the wetsuit and helped distribute the heat. It was just like surfing in normal water."
Rip Curl is set to officially release the H-Bomb any day now. More information on the Rip Curl H-Bomb Heated Wetsuit.