Sugar-Bytes Releases Effectrix – Effects Sequencer For Mac & PC
Sugar-Bytes has released Effectrix, their new effects sequencer. The mad-scientists at Sugar-Bytes are never too verbose with the descriptions of their innovative products, but this is what we can tell you. Effectrix is a new concept for manipulating effects to create throbbing atmospheres, psychedelic melt-downs and other sound mutations.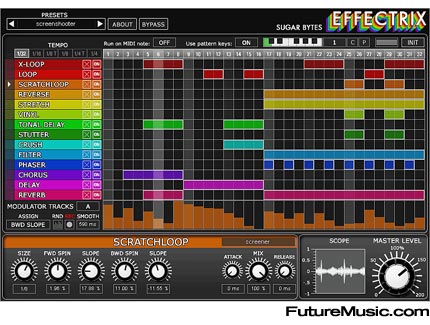 Sugar-Bytes also believes Effectrix can be used to circuit bend your drum loops. The program for both Mac and PC lets you crush, stretch, loop and reorganize any kind of audio material in realtime. Tweak your beats, create new rhythms, turn your stuff into colorful grainclouds….reverse parts, stretch others, apply delaylines or even create melodies out of atonal material.
Features:
• 32 step sequencer matrix for effect activation
• 2 sodulation sequencers per Effect
• 12 subsequences, triggered via Midi note and host automation
• 14 innovative effects: XLoop, Loop, Scratch Loop, Reverse, Stretch, Tonal Delay, Stutter, Vinyl, Crush, Filter, Phaser, Chorus, Delay and Reverb
Sugar-Bytes' Effectrix costs $129 / €99 and is available in the VST/AU flavors for Mac and PC. More information on Sugar-Bytes Effectrix.