Plogue Updates Bidule To Version 0.965
Plogue has updated Bidule to version 0.965. Bidule is a cross-platform, modular music software application that works great with Ableton's Live music production software.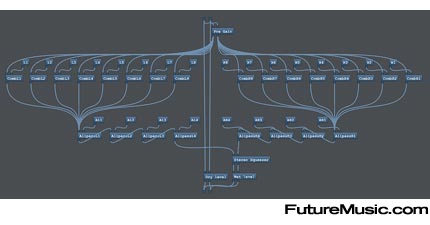 New Features & Enhancements:
• Audio File Recorder: added option to record to multiple stereo files
• Group Manager: now allows multiple selection for download/delete of groups
• HID Extractor: on loading a file, now tries to at least match the device type if the device isn't present
• CC Latch bidule
• Note Latch bidule
• OS X: Cmd-W can now be used to close bidule/plugin windows
• OS X: virtual MIDI ports created by Bidule can be renamed
• OS X: added support for MIDI devices renaming callback
• SDK: added opcode to rename I/Os
• VST: will show I/O configurations for plugins supporting speaker arrangements (VST rescan needed)
• Windows: some MME/DS drivers should show now show up with multiple channels instead of only stereo
• plus many more little improvements and bug fixes
Plogue Art et Technologie's Bidule 0.965 is free. More information on Plogue Bidule.