VirSyn Updates Reflect To Version 1.3
Virsyn has updated Reflect, their reverb plug-in for Mac and PC, to version 1.3. Reflect is an algorithmic reverberation plug-in, which combines the flexibility of vintage algorithmic reverbs with the sonic quality of convolution based reverbs. The new version 1.3 is a true surround reverb modelling multichannel early reflections and decorrelated reverb tails for a realistic spatial emulation.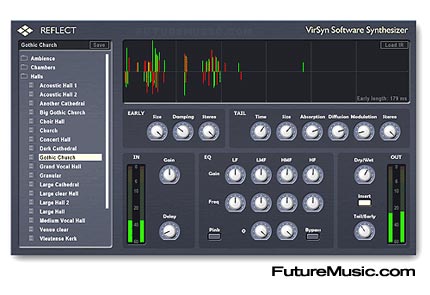 Reflect is now compatible to the new VST3 standard – the next major revision of Steinberg's Virtual Studio Technology. The VST3 version allows for arbitrary input/output channel configurations up to 10.2 Surround. Please note that the VST3 standard is brand new. You have to update your Cubase/Nuendo to the latest version 4.1.2 or later to make use of it.
Features:
• True Surround reverb
— VST3: all configurations up to 12 channels including 5.1 / 7.1
— AudioUnit: mono/stereo/5.1 => mono/stereo/5.1
— RTAS: mono/stereo/5.1/7.1 => mono/stereo/5.1/7.1
• Import of surround impulse responses
• Surround reverb programs
• VST3 compatibility
VirSyn's Reflect 1.3 costs €169 and is available for download now. More information on VirSyn Reflect 1.3.