Stillwell Audio Releases Olga – Virtual Analog Synth Plug-In
Stillwell has released the Olga, a virtual analog synthesizer VST plug-in. The Schwa team does more chest-pounding than usual when describing Olga's sound: "Imagine a handmade experiment from an unlikely place, a synthesizer so full of life and character that it earns the right to be called a musical instrument. Olga encourages risk, experimentation, and exploration, and rewards you with unexpected and exciting sounds, vibrant and human." The interface is right out of Doom.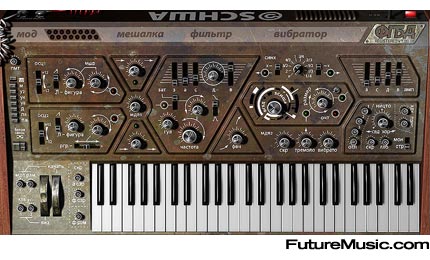 Olga claims to utilize a truly new approach to DSP waveform generation to emulate analog imperfection dubbed Bezier Antialiased Dynamic Analog Synthesis System, or BADASS. (we don't make this stuff up folks! —Ed.) The free running oscillators are in a constant state of structured, yet musical, variability and instability.
Throughout Olga's signal path, levels can be pushed through saturation and into full overdrive, with a thickness that develops organically, breathing life and character into your music. They call this Gaussian Reactive Oscillator Overdrive Virtual Engine, or GROOVE. And thus you have BADASS GROOVE. Olga has been tested in the following audio hosts: Ableton Live 7, Chainer, Cubase SX3 and C4, Energy XT2, FL Studio 7, Forte, Reaper, Samplitude 9, Sonar 7, Tracktion.
Olga is available now for $80 bills. More information on Stillwell Audio Schwa Olga.