Creative Trots Out GigaWorks T40 Speakers
For some reason, there's seemingly a never-ending parade of high-end speaker systems being trotted out for consumerphiles. Creative is the latest brand to expand on this concept with their new GigaWorks T40 speakers.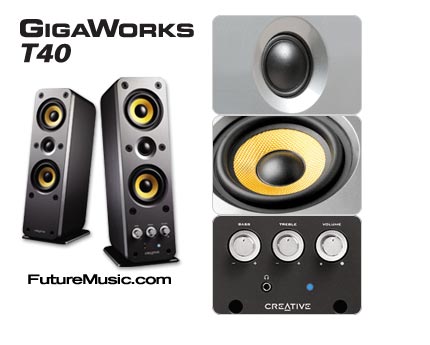 The Creative GigaWorks T40 feature a three-driver design with a Midrange-Tweeter-Midrange (MTM) driver configuration that the concern claims will improve the overall audio balance with deeper and richer bass. The woofer's dual woven glass fiber cones are reminiscent of KRK's monitors, and the cloth dome tweeters reportedly smooth out the high-end without blurring. Other attributes include BasXPort technology and the convenient access to on-board bass, mid-range and treble controls.
Features:
• Speaker Power: 14 Watts RMS per channel (2 channels)
• Frequency Response: 50Hz ~ 20kHz
• Speaker Dimensions (L x W x H): 15cm x 11.6cm x 32cm
The Creative GigaWorks T40 cost $150 beans and are available now. More information on the Creative GigaWorks T40 speakers.