Puremagnetik Releases TeeBee
Puremagnetik has released TeeBee, a collection of instruments and loops sampled from the Roland TB-303 synthesizer. Pprogrammed to emulate the original synthesizer, Puremagnetik has employed many of the new features in Live 7, Kontakt 3 and Logic 8.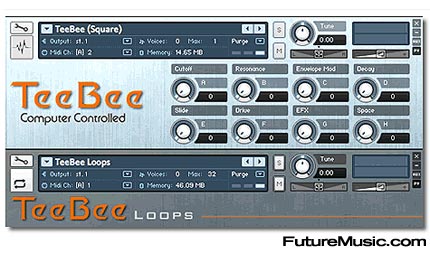 Instead of using the DAW's built-in effects to emulate sounds, Puremagnetik has actually sampled the unique filter and envelope stages of the original TB-303. The TeeBee download includes 24-bit 96khz sample content and over 50 looped phrases styled after classic TB-303 articulations. For Ableton Live users, Puremagnetik has developed a version for Live 7 and a "light" version for Live 6.
Features:
• Programmed multi-sample instrument for Live 7 with Sampler
• TeeBee Light for Live 6
• Over 50 Live Clips with integrated Ableton effects
• Macro controls that emulate the original Roland TB-303
• TeeBee for Kontakt:


— Multisampled instruments for Saw, Square and Accented modes
— Custom KSP easy edit user interface panels
— Over 50 Beat Machine looped phrases with integrated Kontakt effects and automatic tempo sync

• TeeBee for Logic & GarageBand:


— Multisampled instruments for Saw, Square and Accented modes
— Over 50 SIAL instrument loops with TB-303 modulation stylings
— Multi level zone and group modes

Puremagnetik's products are offered as a monthly subscription, and start at $5.75 per month. More information on Puremagnetik TeeBee.