Ashdown Unveils Little Giants – Compact Bass Amps
Ashdown has announced two new compact bass amps, the Little Giant 350 and 1000, which will appeal to not only bass players, but to project studios who want to add some punch. Weighing in at only 6.6lbs and 7.7lbs respectively, they deliver a hcombination of power, tone and features.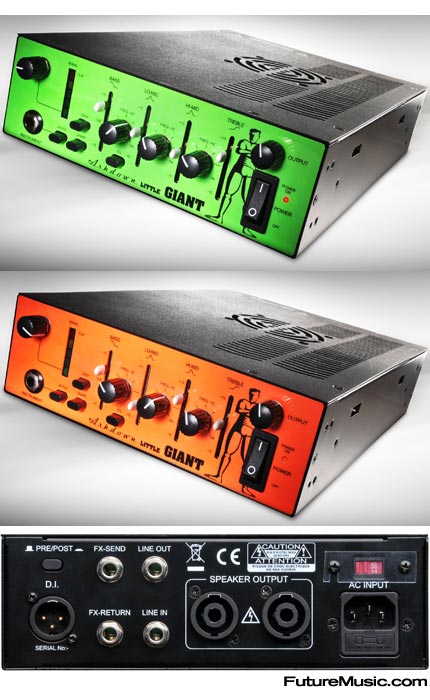 Both the 350 watt (fluorescent green) and 1000 Watt (fluorescent orange) models measure just 8.27″ x 2.6″ x 12.2″ (including an internal power supply), and pack in the same comprehensive range of features including switchable active/passive instrument inputs, 7 band semi-parametric EQ for precision tone shaping, deep and shape switches for instant access to killer sounds and an EQ in out switch, along with an input level control and meter, output level control and power switch.
Around the back of these pint-sized bass amps, you'll find a pre/post switchable balanced DI output, FX send and return, line input and output and a pair of combination Speakon/Jack speaker outputs.
The Ashdown Little Giant 350 and 1000 cost $499.99 and $599.99 respectively. More information on the Ashdown Little Giant 350 and 1000.