StyleFlip Customizes Your Decks
Styleflip.com, a new online customization service, allows DJ's to Pimp their gear by creating their own unique skins. Styleflips are made out of vinyl and coated with a clear laminate coating for additional protection. Ranging in price from $10 to $49.95 the service claims to turn any design into a unique protective layer that is easily applied and removed without leaving a mark.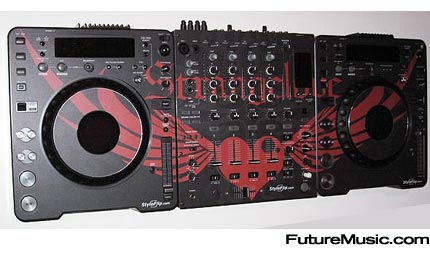 The site has been setup with the designer in mind allowing the user to upload, move and resize their images along with a preview that shows how the image will appear as they create. The process even includes an optional information layer so the user can reinsert their knob control functions in whatever color they would like ensuring it goes well with their design. Styleflip offers a 100% satisfaction guarantee.
StyleFlip is available now for a variety of DJ gear. More information on StyleFlip.