Kong Audio Releases ChineeSuona – Virtual VST Instrument For Windows
Kong Audio has released ChineeSuona, a new virtual Suona VST instrument plug-in for Windows. The traditional Suona is a unique instrument that is a sonic combination of brass and woodwinds. The ChineeSuona features two Suonas — a big Suona and a small Suona — with different note ranges. It contains a 24 bit / 96 kHz, 380 MB sample library.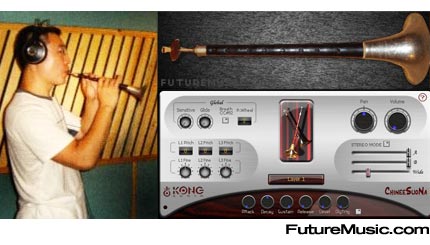 Suona (aka: the Chinese shawm) originated somewhere in Persia and then migrated into China. It was adopted by the Chinese and by the time of the Ming Dynasty (14th – 17th century), the Suona was a prevalent instrument throughout China.
Again, the Suona is a cross between brass and woodwind instruments, with a distinctive, unapologetically harsh, abrasively brash, and just proud-to-be-so-loud sound. Today, Suona is still widely used in Chinese music, especially in traditional occasions such as weddings and religious festivals. Some modified versions of Suona are now the official instruments of large traditional Chinese orchestras.
The Kong Audio's ChineeSuona for Windows costs $68 and is available now. More information on the Kong Audio ChineeSuona.