Audio Damage Releases Ricochet – Multi-tap Delay Plug-In For Mac & PC
Audio Damage has released Ricochet, a new multi-tap delay plug-in featuring a 16-step grid for programming tap times. Ricochet was specifically designed for modern electronic music production, and is much quicker to program than many competing apps according to the company.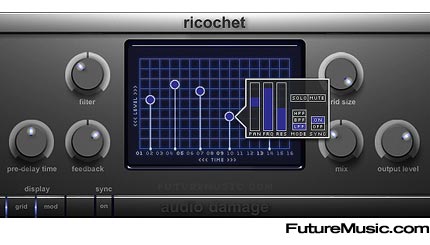 Features:
• Five independently controllable taps with individual multi-mode filter, panning, level, sync, mute, solo, and time
• Unique dual-filter model for overall tone control
• Two feedback modes (master and tap)
• A specially designed chorus that affects only the taps, for feedback smearing effects
• Tempo-sync or free time operation per tap and overall
• Full MIDI learn for CC control of every parameter (VST only)
Audio Damage's Ricochet costs $49 bucks and is available now for Mac OS X (AU) and Windows (VST). More information on Audio Damage Ricochet.