Heavy Electronics Premiers The Radio Havana Lo-Fi Pedal
Heavy Electronics, a boutique manufacturer from Minneapolis, has released The Radio Havana Lo-Fi Pedal. This small grit box breaks down the input signal for a tone that's reminiscent of a small transistor radio — tinny with washed frequencies.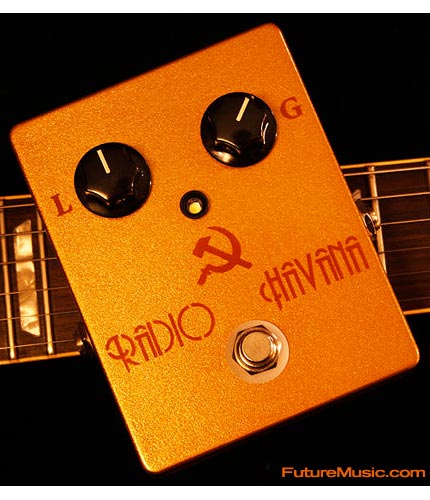 Features:
• Hand made
• Rugged cast aluminum case
• Mechanical True Bypass
• Neutrik or Switchcraft jacks
• Metal LED Bezel
• Metal PSU input
• 24mm pots
• Flying lead construction
• Adjustable LED brightness
• Durable Automotive Paint
• Voiced openly for guitar or bass
• Each pedal tested with ears and by scope
• Custom colors and modifications available
• Five year warranty
Heavy claims that this discrete engineered pedal loves to find the odd frequencies and push them to the forefront. Gain knob not only delivers overdrive but increases interactivity between frequencies, sometimes allowing notes to oscillate between each-other. Radio Havana uses ceramic capacitors amongst other techniques to accentuate grit and overall signal degradation. The Voltage Starve circuit, found within all of the Heavy Electronics Series One pedals, allows the user to adjust the voltage all the way down to .1 Volts. In application with the Radio Havana the Voltage Starve circuit accentuates the core function of the pedal as a whole. Perfect for breakdowns, and really makes things interesting for bass and baritone guitars.
Heavy Electronic's Radio Havana Lo-Fi Pedal costs $135 beans and is available now. More information on the Heavy Electronics Radio Havana Lo-Fi Pedal.