Black Lion Audio Launches Sparrow A/D Converter
Black Lion Audio believes there is a need for affordable yet good-quality converters within the home and project studio world, and we couldn't agree more. The small concern from Chicago has released the Sparrow ADC, which brings affordable quality to the project studio, and expands their Micro Series of products.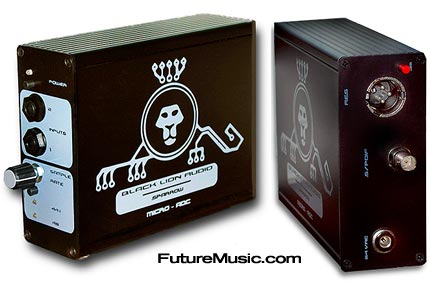 BLA believes that most moderately priced converters contain noise, not only within the signal, but also with the power supply. This noise often appears in the upper frequencies as "grainy distortion." To combat this problem, the company has developed a proprietary converter circuit that works in tandem with a high-speed, high-headroom analog stage. BLA claims end result is increased imaging with a smooth, wide-open sonic footprint.
Features:
• Dynamic range, Converter: 120dB
• Dynamic range, Analog: 33dB
• SNR: -110dB
• Slew rate, Analog: approx 6000v/us, depending upon input signal strength
• Max analog input before digital clipping: +6dBu
• Min analog input necessary for digital output: -20dBu
• Inputs: Balanced, TRS
• Outputs: SPDIF, AES-EBU
• Sampling rates: 44.1kHz-192kHz
• Bit rate: 24 bit
BLA's Sparrow features no input stage volume adjustment, just a single high-speed amplifier before the converter for simplicity and purity of signal path, ultra-low jitter third order crystal oscillators for the clock, and power supply filtration designed around latest-generation organic semiconductor capacitance instead of a traditional electrolytic-based method, ensuring low power supply noise.
Black Lion Audio's Sparrow Analog To Digital Converter costs $650.00 and is available now. More information on Black Lion Audio Sparrow ADC.