Socket Sense – Best Wall Wart Solution Yet?
Socket Sense is an adaptable surge protector that accommodates various sizes of power adapters (wall warts) without sacrifices sockets. Simply expand or contract the movable sockets to adjust for the best fit.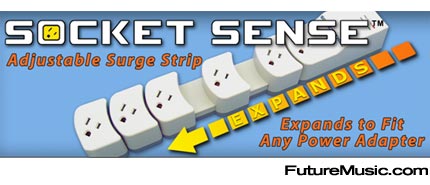 Most musicians know that traditional power adapters typically block one or more sockets mandating the use of additional unwieldy stripes. Everything about the Socket Sense makes a lot a sense to us. The company even has a No-Block Guarantee —
"Socket Sense is guaranteed to fit any power adapter on the market, or your money back."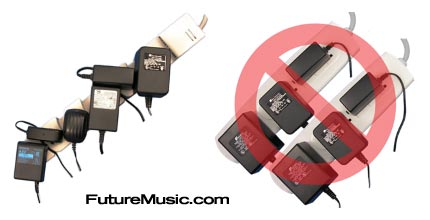 Features:
• Fully Adjustable Sockets
• Surge and Ground LEDs
• 2160 Joules of Surge Protection
• Cable Management Channels
• Six Foot Power Cord
• Metal Oxide Varistor Components
• Power Switch with 15A Breaker
• Keyholes for Wall Mounting
Socket Sense is available now for $39.99. More information on .