Slappa Unleashes New D2i CD & DVD Storage Solutions For DJs & VJs
Slappa has announced it has expanded its patented a d2i interlocking page system to include 25 new products. The d2i flexible disc storage solution is capable of being used in cases, storage boxes and drawer systems while conserving significant space. The patented d2i Slide-n-Lock pages is what makes the storage solution so effective by replacing plastic and jewel cases with the unique sleeve.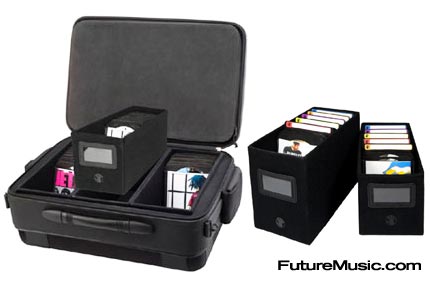 The d2i collection consists of Slappa's HardBody xEVA cases that can withstand water, fire, and general transport abuse. The d2i series is available in 40, 80 and 240 capacity cases, and has all the "little extras" that Slappa has become known for including velvet lined interiors, industrial strength zipper with 2 molded zipper pullers, a disc cleaning cloth and a spine labeling system to sort and categorize collections.
We found Slappa's cases to be of excellent quality and a great choice for DJs and VJs who have to travel with large disc collections. Read the full Slappa CD case review.
More information on the Slappa d2i storage systems.