Radiopaq.com – On-demand Radio Portal Launches For Windows
Radiopaq.com, a new web radio portal from the UK, has launched a beta of its online application for Windows computers and features thousands of radio stations from around the globe, along with a comprehensive podcast library and dedicated news service.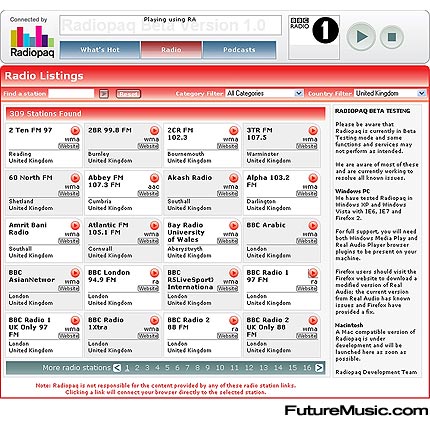 According to the company, the free Radiopaq portal has been designed to help you find what you want to hear, when and how you want to hear it. Thousands of radio stations from around the world are available to access now, from huge international to quirky, independent channels; more are being added every day, and these can all be searched by name, genre or region. You can listen to your favorite shows whenever you like thanks to the Radiopaq Podcasts, while Radiopaq Snapshot gives you the latest news and weather information as and when it happens.
Radiopaq is the perfect place for music lovers to find new bands and stations – search by genre and Radiopaq will find stations from across the globe that fit your criteria. So, if you're looking for country from Nashville, pop-punk from California or even a Danish station that only airs Christmas music through November and December (Radio 100 Soft, 100% JuleMusik, if you're wondering), it couldn't be easier to find. At the same time, RSS feeds from Radiopaq Snapshot – featuring information from sites such as the BBC – and on-demand material from Radiopaq Podcasts mean that your music, news and other reference material can all be found and kept in one place.
Radiopaq is still in its beta format, and we'd love to hear what you and your readers think about the service. And do stay tuned, since new stations, podcasts and services are being added on a daily basis. Visit Radiopaq beta at www.radiopaq.com for yourself, and do give us a shout (our contact details are below) to let us know your thoughts, or if you'd like any more information. A Mac compatible version of Radiopaq is under development, and will be launched soon.
More information on Radiopaq.com.