Kenton Releases Merge 4 – Four Into Two MIDI Merger
Kenton has released the Merge 4, a four in, two out MIDI merger. The Merge 4 takes four opto-isolated MIDI Ins, merges the four streams of data and delivers the combined results to two MIDI Outs. Both outs transmit identical MIDI data.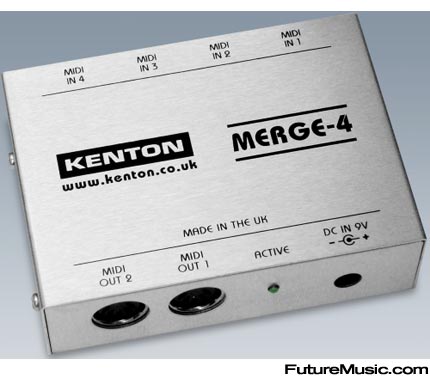 The compact Merge 4 is a MIDI solution for anyone needing an easy way to get multiple MIDI signals into your system. The Merge 4 is the only answer for anyone wanting to combine several MIDI sources without using a computer.
Features:
• 4 x opto-isolated MIDI Ins and 2 MIDI Outs.
• 4 x MIDI In
• 2 x MIDI OUT (both carry identical MIDI data)
• Merges all MIDI data – including SysEx and Clock
• DC power input jack 2.1mm (centre +ve)
• Power indicator light
• Housed in a metal chassis
• Dimensions: 110 x 80 x 35mm.
• Weight: 700g (including power supply)
The Kenton Merge 4 is available now for £74.97. More information on the Kenton Merge 4.