3GA Releases Brennan JB7 Digital Jukebox & Ripper
3GA has released the Brennan JB7, a digital jukebox with a both a hard drive and an internal CD player that can rip CDs without the need of a computer. The compact Brennen JB7 features an attractive blue readout, can store about 600 CDs on it's 80GB drive in the MP3 format, and has a cross-fading "Segue" feature for constant music flow.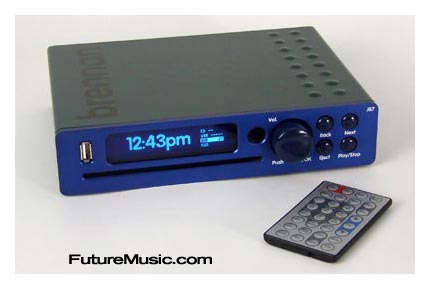 Features:
• Stores 600CDs on 80Gb disk – normal compression.
• Total 60W RMS
• 32 key credit card remote
• 2.2 million album track name database – update on CD
• Text Search for Track or Album by remote control or front panel
• Segue – blends one track into the next
• 180 x 32 soft scrolling graphic vacuum fluorescent display
• Dimensions: 4.8 x 16 x 22 cm
• 1.6kg steel and aluminium construction
• One touch startup – relax let JB7 pick the tracks
• One touch rip – transfer a CD track to MP3 player
• One touch record – convert vinyl to MP3s
• Loads CDs at 8x – play music while loading
• Battery backed up clock with alarm
• MP3 encode at 128k, 192k or 320k – done automatically
• USB 2.0 Full Speed 12 Mbits / sec – compatible with USB Mass storage class devices formatted with FAT16 or FAT32 – Ipods, MP3 players, MP3 mobile phones, USB memory sticks, USB hard drives.
• Rear connectors – loudspeakers, line in, line out, headphone, 24V DC
• Backup music and playlists to external USB hard disk for safe keeping
• 400MHz Blackfin processor with Dual MAC
• Find and play MP3s on MP3 players and USB drives as if they were internal
• Transfer MP3s to and from USB
• External 24V power supply – included
The 3GA Brennan JB7 costs £299 (40GB) and £319 (80GB), and is available now. More information on the 3GA Brennan JB7.