Audio-Technica Releases AT-LP2D-USB LP-To-Digital Recording System
Audio-Technica has released the AT-LP2D-USB, a LP-to-digital recording system complete with a USB turntable and software package. The LP2D is a very simple solution for transferring vinyl records to digital media files and/or CDs.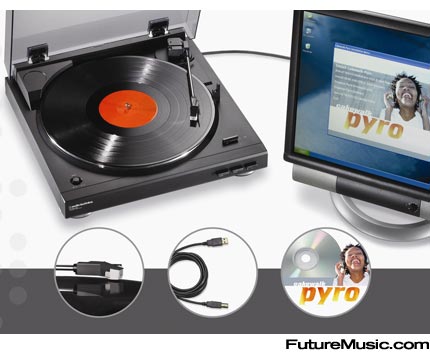 Features:
• USB output
• Built-in switchable stereo phono/line level pre-amplifier.
• PC and Mac compatible
• Fully automatic operation
• Two speeds: 33 1/3 rpm and 45 rpm
• Professional aluminum platter stabilizes records
• Balanced tone arm with soft damping control
• Switchable built-in pre-amplifier with line-level RCA output cables
• Integral Audio-Technica Dual Magnet phono cartridge with replaceable diamond stylus
• Removable dust cover
The AT-LP2D-USB includes a turntable and phono cartridge, PC- and Mac-compatible software, a USB cable that connects the turntable directly to a computer and other accessories. The turntable features fully automatic operation and a 33-1/3 and 45 RPM speed selector to play vinyl formats from LP albums to 12-inch and 7-inch singles. The turntable is designed to deliver high-quality sound, with a balanced aluminum platter, precision Dual Magnet stereo cartridge with replaceable stylus and a pickup arm with soft damping control. The turntable's supplied USB cable enables plug-and-play connection to a desktop or laptop computer. Its built-in switchable phono preamp, RCA output cables and adapter cables allow connection to a wide variety of music and home entertainment systems, as well as to A/V receivers that do not include a dedicated phono input.
The supplied Cakewalk PYRO (for PC) and Audacity (for Mac or PC) software converts the audio on a record to MP3, WAV or Windows Media audio files, for playback on a wide variety of portable audio players, computers, home media centers and car audio systems. The PYRO software also features DeClicker and DeNoiser utilities that automatically remove pops, clicks, noise and hiss from LP recordings, as well as design software for creating personalized CD jewel case artwork and CD labels.
The Audio-Technica AT-LP2D-USB LP-to-digital recording system is available immediately for $229. More information on the Audio-Technica AT-LP2D-USB.