Sony Ericsson Bolsters PlayNow Store With 5 Million New Tracks
Sony Ericsson announced that it has inked deals with 10 music labels for its fledgling PlayNow music download store. The deals add 5 million new tracks to its catalog from Sony BMG, Warner Music Group, EMI, The Orchard, IODA, The PocketGroup, Hungama, X5Music, Bonnier Amigo, and VidZone. The service allows mobile phone users to preview tracks before buying.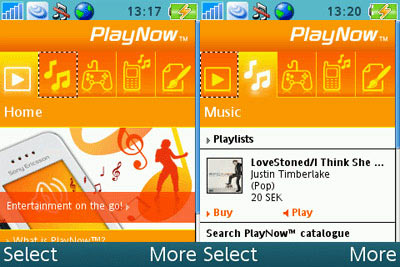 Sony Ericsson said it was negotiating further deals with regional labels. The company introduced PlayNow in February 2004 as a way to listen to and then purchase ringtones for mobile phones. Since then, it as expanded the service, allowing full music tracks and games to be downloaded and other features, and now is available in 32 countries.
More information on PlayNow.