Applied Acoustics Systems Unveils Strum Acoustic GS-1 – Acoustic Guitar Virtual Synth
Applied Acoustics Systems has announced Strum Acoustic GS-1, an acoustic guitar virtual synthesizer based on the latest AAS physical modeling technology. Strum provides a collection of steel and nylon acoustic guitars, and includes voicing and strumming modules for the realistic reproduction of a guitarist's playing techniques. Chords played on the keyboard are automatically voiced for the guitar while strumming and picking actions are reproduced by an auto-strum function, special strumming keys, or MIDI loops. EQ, multi-effect, and reverb modules complete the package.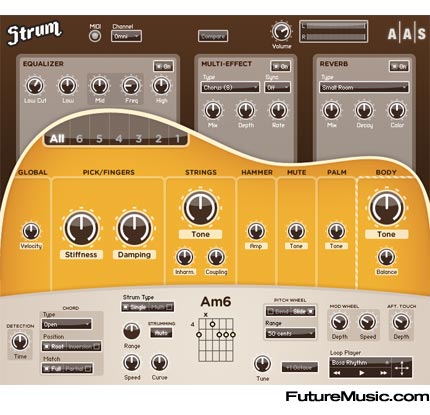 Features:
• Play a folk song with open chords — Play the chords you know and Strum voices them as a guitarist would.
• Strum on your keyboard — Auto-strum chords or play them via strumming keys or MIDI loops.
• Pick a guitar from your collection — Go from nylon to steel, from jumbo to concert, or from country rock to fingerstyle classical.
• Create your own space – Add warmth with the EQ, lush with the chorus, and space with the reverb.
"Strum is the keyboardist's perfect solution for creating great sounding acoustic guitar tracks," said Marc-Pierre Verge, CEO of AAS, "Our physical modeling approach not only allows one to find the just-right sound but also to easily and efficiently reproduce on a keyboard, a wide range of left and right hand playing techniques of guitar players."
Applied Acoustics Systems' Strum Acoustic GS-1 will be available sometime in March for $229. Strum Acoustics GS-1 runs on both Mac OS X and Windows as a standalone application as well as in host sequencers supporting the VST, Audio Units, and RTAS plug-in formats. More information on Applied Acoustics Systems Strum Acoustic GS-1 Acoustic Guitar Synth.