Livid Instruments Releases Ohm – Audio & Video MIDI Controller
Livid Instruments has released Ohm, a MIDI controller for audio and video live performance. Ohm is a real-time MIDI control surface designed to give digital audio and video performers an innovative interface for performance and presentation.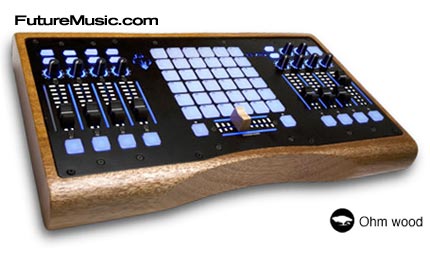 Features:
• 36 Professional-grade backlit buttons
• a DJ style cross fader
• 8 faders with button triggers
• 10 rotary knobs
• 12 function buttons
• BPM tap button
• All of the controls are fully LED backlight for performance – LEDs have on/off switch
• USB and MIDI connectivity (5 PIN MIDI out)
• 36 Button Clip Bank note pad
• 9 function buttons
• 8 slider trigger/mute buttons
• 8 High quality faders
• 1 DJ style crossfader
• 10 rotary dials
• BPM tap button
• USB connection – requires Mac OSX 10.4 + / Windows XP
• 12v DC (use included adapter)
• Compatible with any software that supports MIDI learn
• All New Livid Union 2.5 VJ Software Included Free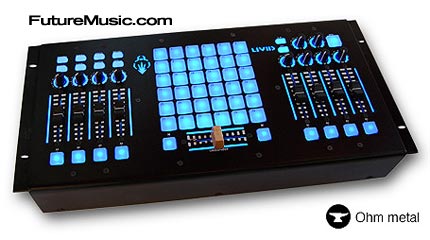 Ohm users will find it to be highly intuitive and adaptable to music generation with programs like Ableton Live, and FL Studio. Ohm also makes an ideal companion for hardware such as analog synthesizers, video mixers, DJ software, lighting equipment, and other musical instruments.
Ohm includes a free, fully functional copy of the all-new Livid Union 2.5 VJ software, completely integrated to match the controls of the instrument. Ohm also comes with demo versions of audio software titles Ableton Live, and FLStudio.
Livid Instruments Ohm is available now in two flavors, handcrafted mahogany or rack-mount metal chassis, for an introductory price of $790. More information on Livid Instruments Ohm.