The Sonic Chair
Sonic Chair, a German concern, has launched with two models of their design-forward, 350° rotational audio chairs, the Pro and Basic in four colors, orange, green, beige and pink. Both models can be customized with a variety of sophisticated options including integrated iPod docks, touchscreens and laptop side-tables. The back of the chair has an open design for what the company calls a "highly resonant sound environment" that features a "large body-focused sound membrane as backrest."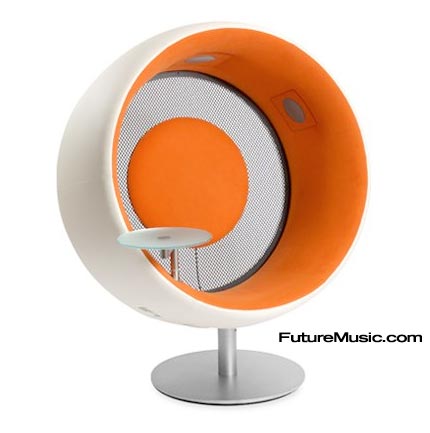 The hollow pedestal is made of stainless steel and was designed to conceal the necessary cables, and the upholstery comes in top-grade leather, synthetic leather, or sueded microfiber. As mentioned there's a multitude of provocative options:
» round sandblasted glass sidetable
» high-quality acrylic laptop sidetable with rounded edges
» integrated computer / monitor: iMac 20-inch touchscreen
» iPod docking station: charger and an iPod jack
» integrated monitor: 15-inch touch display for connection to an external computer
Viewing the Sonic Chair from the rear reminds us of a hovercraft engine, and gives the impression of speed…very attractive.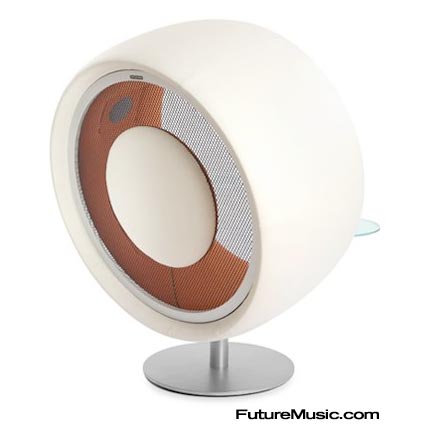 Sonic Chair's description of the audio components is a little murky, but this is what we can tell you:
» 4 Channel Amplifier with patented class D technology
» Left / Right / Overhead 2-way speakers
» SEAS subwoofer married to a body-focused sound membrane providing a claimed 16 to 40 Hz frequency bandwidth via silent physical vibration
» crossovers especially designed for the sonic chair in a 12 dB filter topology with high-end air-core coils and foil condensers
» Inputs for peripheral equipment including laptops, stereos, CD players, iPods or gaming consoles

The Basic Sonic Chair will set you back €5,850 and the Pro starts at €7310. Each Sonic Chair is individually configurated and specially produced when ordered, so turnaround times may vary. More information on the Sonic Chair.