N-Tune Onboard True Bypass Chromatic Tuner Now Available
N-Tune has released their onboard guitar tuner that attaches under a guitar's volume knob and illuminates when you're in pitch to a particular key.
The N-Tune Onboard True Bypass Chromatic Tuner is an extremely convenient solution for instant guitar tuning that would be great for live performance. What's great is that you can silently tune up in seconds without the crowd having to endure the old pluck-twang, pluck-twang.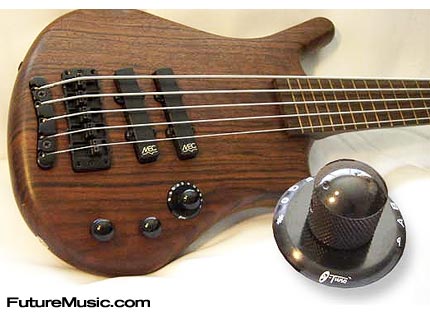 N-Tune is available in a wide range of new guitars, as well as an aftermarket model that can be easily installed into almost any electric guitar. All you need is your existing volume knob and some standard soldering tools. No permanent modification of your guitar is required. N-Tune engages when you pull up the volume knob to tune and then disengages when pushed back down to play utilizing a bypass design that removes all tuning circuitry from your guitar's signal path.
The N-Tune system only costs $100 bucks, which is probably a lot cheaper than the Gibson Robot Guitar. More information on N-Tune.