EKS Unveils OTUS DJ Controller / Sound Card
EKS is hyping a new DJ controller, with a built-in sound card, dubbed the OTUS. Like the XP10's when they first debuted, the OTUS looks like it has many exciting features, but will they actually translate when it comes to using them as true DJ tools.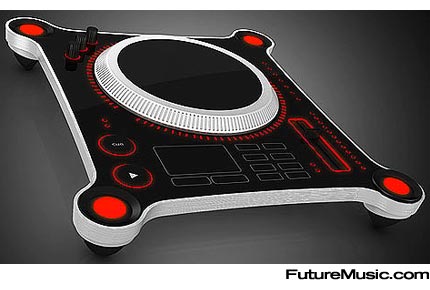 Preliminary Features:
• Built-in sound card
• 1 Main jog wheel
• 4 mini jog wheels
• track pad
• D-Beam-like infrared controller
• Ribbon controller
• Motion Sensors
The original XP's were hampered by EKS' lackluster Bison DJ mixing software, and the concern took too long in forging certified relationships with established players like Native Instruments. VirtualDJ is still your best bet for the XPs with progress on a major update to the Bison software still in the works almost 3 years later.
However, the company may be in a position to re-establish itself now that DJ mixing software companies are moving to make their products universally usable to the many DJ controller options in the marketplace. That said, there's suddenly a lot more competition in the market from when the XP10's first debuted, so EKS has to come up big.
The Finnish company is now pinning its hopes on the new OTUS, which incorporates some forward-thinking concepts into its attractive design. However, questions remain: Can EKS get this product to market in short order at a reasonable price? And can they leave behind the handicapped Bison product in order to create relationships with Serato, Native Instruments and other DJ software developers?
Apparently, we'll have to wait until MusikMesse in Frankfurt to get more information on the OTUS.
More information on EKS.