Hercules Unveils "Upgraded" RMX MIDI DJ Controller
We've never been too impressed with Hercules, since their MIDI DJ controllers are more like toys then pro gear — cheaply produced with some of the worst ergonomics in the industry. However, the concern is trying to rectify that image by releasing an upgraded model dubbed the Rmx, which integrates a 4 IN / 4 OUT soundcard and a new chassis. Will it make a difference? You be the judge!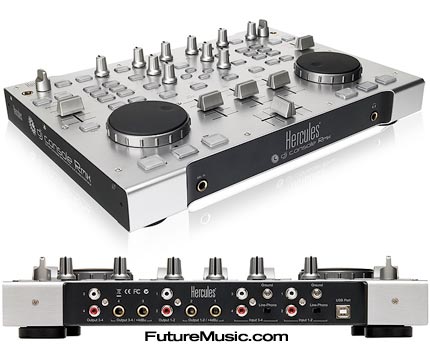 Features:
• 4 audio outputs offering:
• 4 mono 1/4″ outputs; +4dBu for PA equipment,
• Audio output levels at -10dBv over 4 RCA outputs, for connecting consumer devices (hi-fi systems,recording devices etc.)
• Simple integration to the DJ's equipment by means of 2 stereo analog inputs enabling users to mix, via the DJ software, external sources with digital music; the console also features a phono/line-level selector on each input for connecting turntables, CD or MP3 players and rhythm boxes.
• Microphone (with talk-over feature) and headset (for preview feature) connectors are accessible on the console's upper face
• Dedicated software for optimum digital DJing control
The Hercules DJ Console Rmx comes with VirtualDJ 5 DJC Edition. which includes features and settings specific to the Hercules DJ Console Rmx.
The Hercules DJ Console Rmx costs €350 incl VAT. More information on Hercules DJ Console Rmx.
The Future: The Hercules' designers still need to take a course in Ergonomics 101 at their local community college. With all the other quality MIDI DJ controllers on the market now, it could be game over for this mediocre concern.
Think we're being a little harsh on Hercules?
Well here's what they had to say about using the EQ on the RMX:
"Make dancing easier by enhancing the bass (the bass provides the tempo for dancing)"
Not a clue…