Akai Trots Out MPD32 – MPC MIDI Controller
Akai made a nice splash at NAMM with their MPC5000, but they also revealed a new MPC-like controller, the MPD32. The MPD32 is a velocity-sensitive pad controller for musicians and DJs. Akai claims that the sixteen velocity and pressure-sensitive MPC pads provide the industry's finest feel and expression. Four selectable pad banks for a total of 64 playable pads, eight assignable faders, eight assignable switches and eight assignable, 360° knobs for transmitting MIDI Control Change data, all combine for pure beat-making euphoria.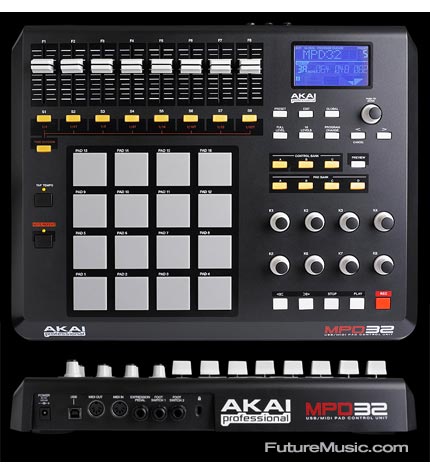 Three selectable control banks extend the number of available faders, buttons and knobs to 24 each. Two assignable footswitch inputs and an expression pedal input takes the total assignable controller count to 75. The MPD32 also features transport controls for interfacing with DAW/sequencing applications. The MPD32 is a fully programmable controller and multi-functional control surface that fits perfectly within any production or performance environment.
Features:
• MIDI synced note-repeat with MPC swing
• 16 full-sized, genuine MPC pads with velocity and pressure-sensitive response
• Assignable switches, sliders and endless knobs for a total of 72 controllers
• 2 assignable Foot Switches
• 1 assignable Foot Pedal controller
• Large, easy-to-read custom LCD display
• 30 user-definable Presets for various DAW and software applications
* MMC/MIDI Start/Stop transport buttons
More information on the Akai MPD32.