Weekend Fun: Bubble Gum Sequencer
Similar to the Peter Bennett BeatBearing Drum-Machine/Sequencer, that we told you about last week, the Bubble Gum Sequencer is a little less sophisticated, but makes up for it by being edible.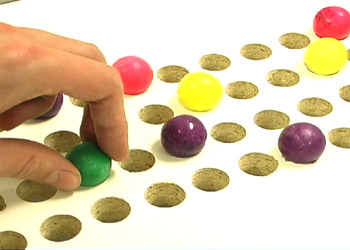 Developed by University of Berkley (California, USA) students, Hannes Hesse, Andrew McDiarmid and Rosie Han, the Bubblegum Sequencer senses the position of the balls through a video camera mounted underneath the surface (watch the video below). The captured image is processed by a computer vision routine that computes the average color in each hole. The colors are quantized and mapped to notes. For each note, a MIDI event is generated and sent to the operating system's MIDI bus. The computer vision software is written in Java and makes use of the ImageJ image processing library.
We know, we know…more cowbell!
More information on the Bubble Gum Sequencer.